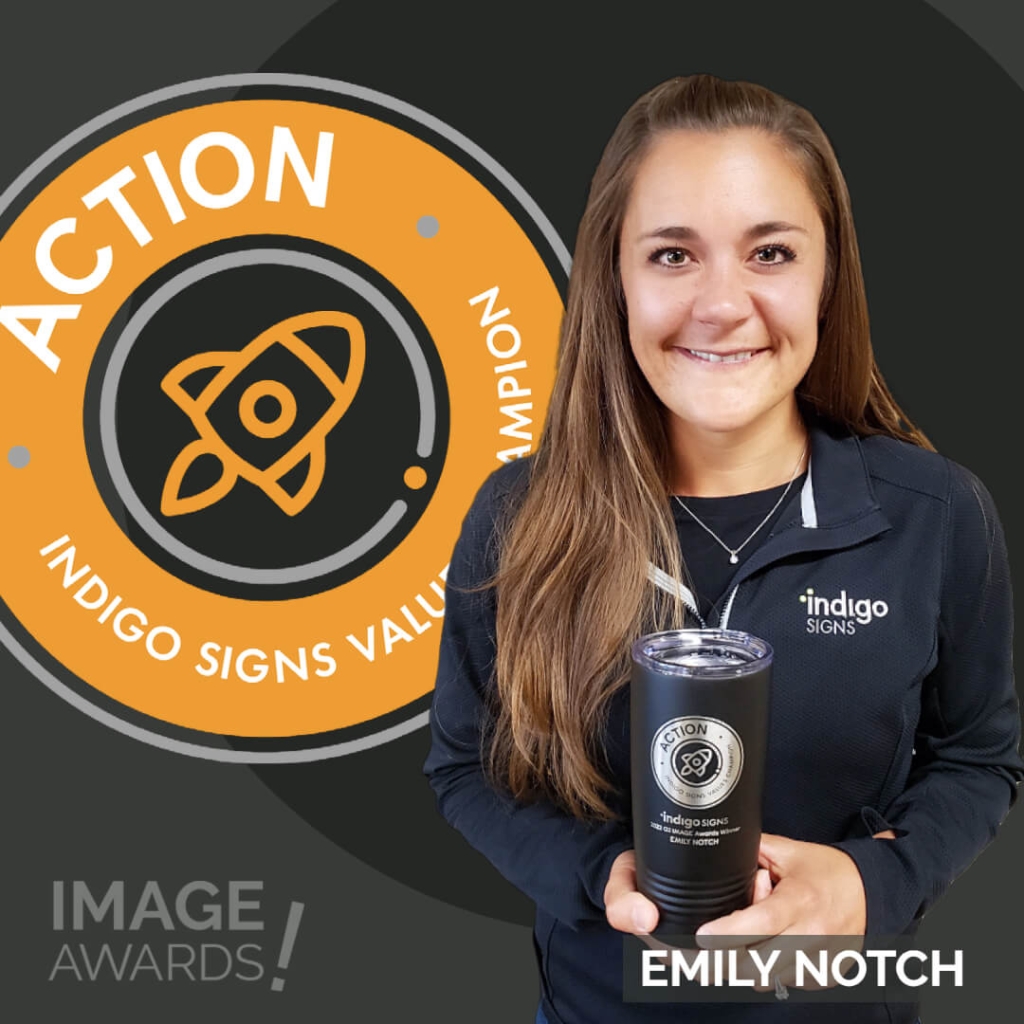 The 2022 Q2 Indigo Signs IMAGE Awards winner was Emily Notch, who was nominated by multiple employees for one of our core values:
ACTION: Our default is the get things done.
Making good decisions is important, but ensuring those decisions are implemented is also essential to success. Emily is an Associate Project Manager in our Alexandria office and has been with Indigo Signs for three years. She has been labeled a reliable action-oriented teammate: whatever she needs to do for a project, she follows through on it.
Here are just a few nomination submissions (all for ACTION) from fellow Indigo Signs teammates:
This person is driven to provide the absolute best for coworkers and customers. Their knowledge of the permit process, customer accounts, and the order process is inspiring. They take it into their own hands to figure out any problems or questions to ensure responses are accurate and received in a timely manner. This person is detail-oriented and meticulous in everything they do, which reflects in their work. In doing so, everyone else has the tools they need to do their job efficiently without any hiccups. They will jump in to help without batting an eye, even if they already feel overwhelmed. This person is the definition of action. If you need something done, they will get it done!
After a breakdown in communication on the status of a permit, signs were installed without the permit being finalized. This individual sprang into ACTION and got involved with the City and convinced them to issue us the permit, even though they were aware that the signs were already installed without a valid permit.
Although there are dozens of reasons why this person deserves a nomination, one that continually stands out and amazes all who work with them is their steadfast dedication to the undesirable task of accounts receivable management and collection efforts. Kudos to this team member for their weekly commitment to calling on accounts, keeping the sales staff up-to-date on collection efforts, and communicating to our administrative leadership on the statuses of payments.
When we asked Emily to explain why she chooses to lead with Action, she said, "It's our responsibility to our customers to take action on their behalf to ensure their expectations and goals are not only met, but exceeded."
Congratulations to Emily for winning the Action IMAGE Award for Q2 2022!