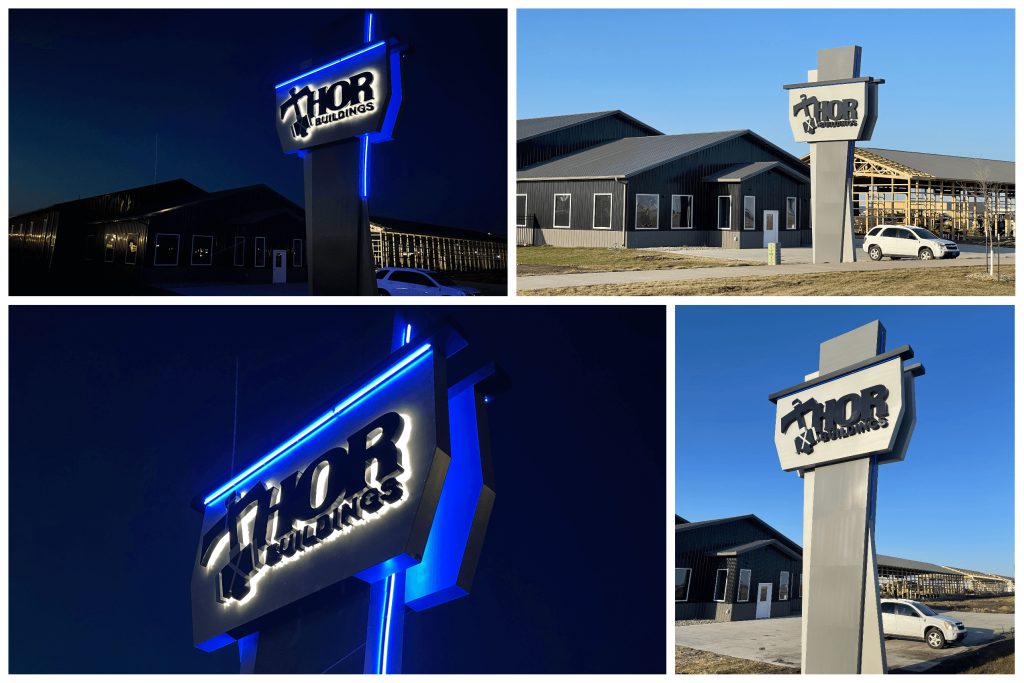 Case Study
Indigo Signs was approached by Thor Buildings to create a pylon sign for their new location in Fargo, ND. The client had an existing logo but no idea for a sign. They wanted a sign that was easily visible from traffic and indicated their main entrance while keeping their budget in mind.
Challenges:
The initial design created by our designers was a simple pylon sign structure. However, the client expressed a desire for something more unique and eye-catching. They wanted a sign that was "cool" and would leave a lasting impact.
Solution:
Our designer went back to the drawing board and utilized unique shapes and strong structures to create a design that was inspired by the "Hammer of Thor." We incorporated blue accent lighting, halo-lit channel letters on the top cabinet, and a unique custom shape to give the sign a powerful and dynamic look.
Outcome:
The client was sold on the new design, despite the budget going higher than initially desired. To keep costs in check, the client decided to provide the foundation for the sign themselves. The final design was extremely impactful and exceeded the client's expectations, making them very happy. We were proud to have been able to create a sign that met the client's needs, and we look forward to future collaborations.