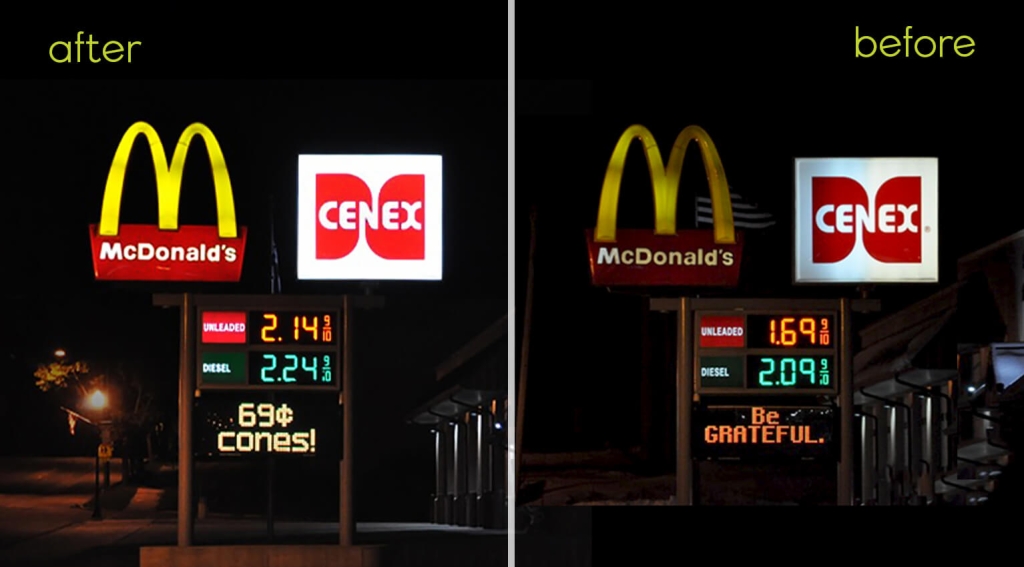 Energy-saving LED retrofits; should you do it? Yes, of course! The return on investment (ROI) alone says you should.
It Pays to Upgrade
The Cenex sign shown in the picture is about 7' tall x 8' wide and it used to be illuminated with eight 800MA high output fluorescent lamps & two ferromagnetic type ballasts. As a result, this lighting method consumed about 800 watts costing $455 a year if the sign was running 12 hours a day, and the energy cost was 13₵ /kW‐h. Due to new LED lighting technology, installed by Indigo Signworks, the sign now only consumes 306 watts costing $175 a year for the same run time & energy cost. Just the annual energy savings alone is 61%!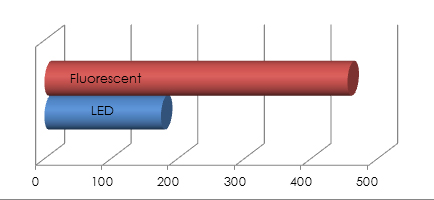 ​
Energy $ Used Yearly: Fluorescent vs. LED Principal Qwik Stik® Shallow 360°
The old fluorescent lamp lighting has a useful life of 12,000 hours. Because of the new LED lighting, it can be as long as 100,000, it makes the average yearly maintenance savings of not having to service the sign close to $450. Adding the $280 per year in energy savings to the $450 in yearly maintenance benefits Cenex $731 a year! Therefore, the LED retrofit ROI, in this case, is great; in as little as 35 months the investment will pay off*. The LED products and the labor directly used to retrofit this Cenex sign costs the end-user about $38 per sq. ft., or $2128.
Get Your Own LED Retrofit ROI Analysis!
Don't wait...Contact your local Indigo Signs office today, and we'll do an LED Retrofit ROI analysis for you! We will take great care in selecting the right lighting to benefit you the most. We have the experts that sift thru the many options available and will present to you the best one.
You will see how it pays to upgrade. If your double face sign is about 7'x8', in 10 years, you will actually have $7310.00more.
In some places, an energy rebate is available too, making the decision to invest in a lighting upgrade even sweeter. In order to find out if you are eligible for a rebate or other incentive program, you can reference the Department of Energy's DSIRE site
One more benefit…LEDs are much brighter during cold temperatures than fluorescent lighting.
* investment/annual savings